Top 13 Best Google Chrome Alternatives in 2023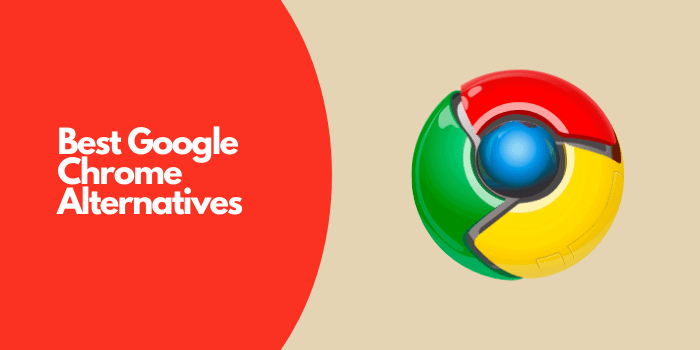 While using an internet browser, the primary concern of any user is speed and privacy. However, Google Chrome sometimes fails to provide a rich user experience by collecting their data and invading privacy. Despite dominating the other browsers, Google Chrome fails to solve all the problems that a user faces while using it. in this article, we are providing the Top 13 Google Chrome Alternatives in 2023.
The common concern of users while using Google Chrome is privacy issues as analyzing the search history and results gives all your data and behavior to google.
Besides this, Chrome lacks customization, Google sync options, ad blocking, and visibility of larger sections of history. Moreover, it acquires large space when used on mobile devices and the available extensions corrupt the browser and make it slow. Also, the browser is resource hungry and drains the device battery while browsing.
If you are someone who is looking for better browser options than Google Chrome, we are presenting a long list. All the below browsers provide a secure and private internet browsing experience.
13 Google Chrome Alternatives Browsers
1. Mozilla Firefox
When talking about the Google Chrome Alternatives, Mozilla Firefox is the first name that comes to mind. It is a custom rendering engine-based web browser. Compared to Google Chrome, it provides endless customization for a wide range of plugins and extensions.
If you use Version 90 of the browser, you get features like a popup blocker, alerts for an email address, fingerprinting and browser tracking blocker, and the last picture in picture mode for Mac users.
Over time, Mozilla introduced numerous features and improved the performance of the browser to make it smoother and more solid than Chrome.
Users also get features like desktop syncing, dark mode, Android Autofill, and better scrolling capability. By default, Firefox blocks the tracking scripts for better security and unwanted invasion.
2. Brave
A self-proclaimed privacy web browser with features like security, data synchronization, and rewards. Brave's best functionalities are that it has a blocking tracking and encryption wallet for donating to sites.
The ad blocker feature of Brave makes it the fastest browser compared to Google Chrome which tends to be slow as it doesn't block ads.
You must be wondering, after blocking Ads how does Bave make money? A rewards program on Brave offers Basic Attention Tips for featuring alternative ads on the browser. This way ad publishers need to buy the badges to get features. Besides all, the browser never tracks its users and provides a private browsing experience.
3. Tor Browser
While browsing, if privacy is your primary concern, then you should try Tor Browser. Unlike Google Chrome, there are no such data collection policies in Tor. When you use this browser nothing can track your data and you are safe to browse by keeping your identity anonymous. The browser bounces your communications around a distributed broadcast network run by volunteers to maintain your browsing privacy.
Even if someone is monitoring your internet connection, they can't fetch the data of the sites you are visiting. Besides this, using Tor, users can even access the sites that are blocked by your sites. Users also have access to the Deep Web.
Nothing can beat Tor as the best web browser for browsing the internet anonymously.
4. Vivaldi
Former developers of Opera found this chrome-based search engine. Vivaldi added some cool features to its interface to make navigation easy for all users. The most dominating feature is it beats the customization of Google Chrome. Users can tweak almost everything and customize the browsing experience as per they desire.
Vivaldi also shows you history in graphical form. Indeed, it is a Chromium-based browser but doesn't work like Google Chrome because Vivaldi can pin sites to the sidebar, has colour schemes, and can adjust page fonts etc. Users can even customize the search and the way the tab works and also use the notes panel along with bookmarks.
Vivaldi is a boon for all users who have multiple tabs open while browsing.
5. Microsoft Edge
Microsoft's latest attempt to build a browser is Microsoft Edge on Chromium. After shutting down Internet Explorer, the company has surrendered the power of the underlying Google Engine and is now using the Edge browser.
As the new Microsoft Edge is a Chromium-based browser it acquires quite familiar features of Chrome like speed and appearance. Edge is currently in beta version and will be ready to use by the end of the user.
Unlike Chrome, Edge doesn't tax your computer resources. Moreover, it supports the entire library of chrome. Hope this browser from Microsoft will be better and user-friendly unlike the last one.
Microsoft Edge can be the biggest competition of Google Chrome in near future.
6. Opera
As Opera is a Chromium-based browser, you can expect speedy performance and all the features and functionality of the Chrome library. Features like data saver mode, in-built ad blocker, VPN and crypto wallet for crypto transactions make opera stand out from the other extensions.
Using the Opera sidebar, users can enable in-browser messaging, switch between different modes, and can use Flow to spot things later. And the unique feature is it offers loan apps to the users.
Opera can be used on all major devices and platforms by adjusting settings in toolbars, menus and sidebar. The search bar can be used to drag and drop the tab browsers to redefine design with other integrated apps.
To load pages faster on low bandwidth the browser compresses the internet data and even provides battery-saving mode – Chrome doesn't offer either of these. You can also get extensions just like Chrome. Opera puts all your frequently visited pages in a speed-dial menu with the support of web 3.
7. Avast Secure Browser
Using Avast Secure Browser, one can browse any device or platform to use the Avast SecureLine VPN Software. The VPN provides safety and data protection tools. Avast offers functionalities like internet surveillance, fingerprint protection, phishing module, ad blocker and webcam safeguard to control all sites.
There is also a Hack Check feature to check if your data has been breached by someone. Also the only browser with free antivirus software to prevent Internet malware and invading activities.
8. Epic
Epic is rich with features but doesn't have a dedicated network. It provides full protection against encryption, mining, tracking, malware, fingerprinting and ultrasonic signalling which is not available on Google chrome.
Additionally, it provides private browsing, free VPN proxy and one-click encryption to hide your traffic and IP address. Epic deletes all cookies related to your account, preferences and databases automatically.
9. DuckDuckGo
DuckDuckGo is a search engine that also offers a nice experience of web browsers to both mobile and desktop users. It blocks the tracking scripts by default as it focuses on user privacy, unlike Chrome.
Indeed the platforms don't have extensions, desktop sync support or any advanced features. It also removes cookies while closing a tab. Moreover, it shows the information to the user in the easiest way.
10. Safari
It is the default browser for Apple devices. Safari has decent speed for macOS and iOS. Due to the in-house optimization and use of Apple hardware the users get a better battery life while using the browser.
Safari focuses on users' privacy. Indeed, Safari is not available for other devices (android) but far better than Chrome which is resource hungry.
11. Avant
Avant is very compatible with windows and uses a similar privacy code to Internet Explorer. You can use it in both ways as a standalone browser or as an add-on. This browser saves all your tabs and activities and makes them available whenever you use the browser next time.
The browser updates itself automatically unlike Chrome. Also, prevent users from malicious downloads and phishing schemes.
12. Torch Browser
Troch is the best browser for streaming entertainment content from the web. It is loaded with multimedia-based features. The Media Grabber features help you to download videos or audio content from any of the sites, unlike Chrome. No need for third-party integration, extensions or tools.
Users get a native torrent client to manage the downloads from torrent. The interesting part is users can watch the video while the downloading process continues, which is quite rare in any sort of browser.
Moreover, users can enjoy free music from Torch Music and also play free games on browsers.
13. Maxthon
Another solid Google Chrome alternative with numerous features like drop and drag, where you can take content from any website and drop it into mail or another personal message. It eliminates the requirement of copying any content.
Maxthon offers parental controls to block some sites based on their ratings and security settings. The browsers save any information and auto-fill whenever you fill in similar kinds of forms.
Besides this, it offers features like reader mode, screen capture tool, and media downloader.
Conclusion
Hope, the above options help you to find the best internet browser you are looking for. Indeed, Google Chrome is the most dominating browser in the market right now, but the mentioned options are giving tough competition to chrome and are quite safe to use. For such an informative blog, follow Digikore Digital.