Looking for ChatGPT Alternatives? Check Out These Other AI Writing Tools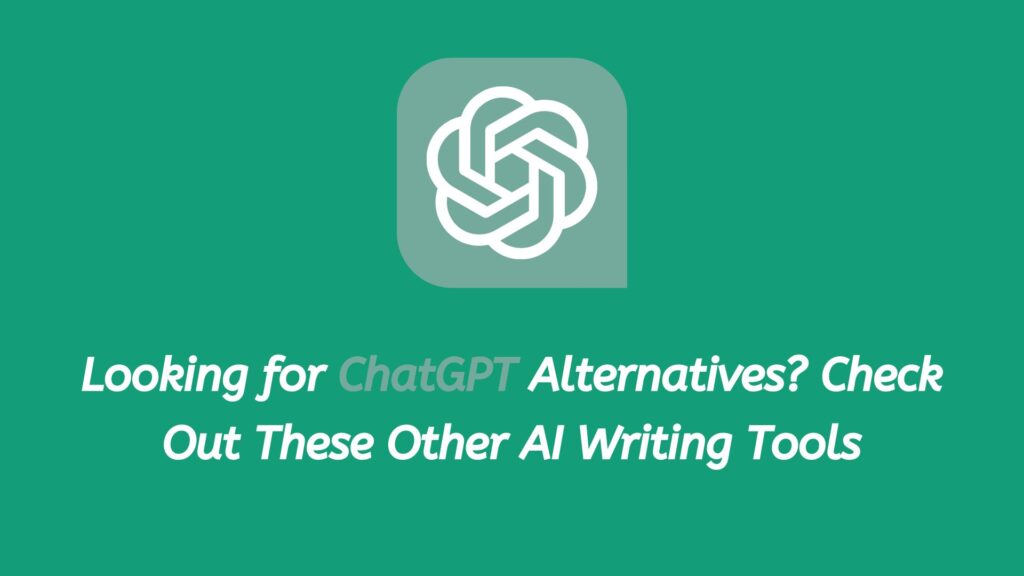 ChatGPT has gained quick traction due to its impressive performance and quick results.
Unlike Google, it provides you with instant results that should be enough to serve your purpose in the right way.
It minimizes research fatigue and offers the same results you might want.
However, that's not the only thing you can trust in today's age of artificial intelligence and natural language processing.
There are many other AI writing tools that you can use as an alternative.
Before we discuss them, let's check out what ChatGPT is and how it works.
What is ChatGPT?
OpenAI is the name behind ChatGPT. The company has developed this language model to help real human beings get their desired output with nearly no research efforts.
The tool generates human-like replies to different prompts based on each user's requirements.
The tool is based on Generative Pre-Trained Transformer (also known as GPT).
The tool has been trained to treat human prompts, understand them, and then generate instant output based on the user query.
The reason behind the efficiency of this language processing model is more than 175 billion parameters.
The basic purpose of the tool is to take on writing tasks assigned by human users.
The tool creates a grammatically correct output with possibly authentic information.
It's much like your virtual assistant.
It has been pre-trained to engage in conversation with real human beings and understand what people want from it.
Top ChatGPT Alternatives You Should Consider
Now that you have learned what ChatGPT is and how it helps real human beings get instant results against their queries, let's check out some of the best ChatGPT alternatives or AI writing tools that can help you.
Rytr

Rytr is an online writing assistant that can help you with so many things, including email writing, social media copywriting, blog writing, and much more.
The tool has been created based on different machine learning models, which is why it can generate instant output according to the user's requirements.
It has an easy-to-use interface that allows you to use a bunch of pre-made templates.
All you have to do is select the template you wish to generate content for and simply follow simple instructions.
You can easily create different types of content, choose the style you want, and do much more with this amazing AI writing assistant.
The great thing about the tool is that it comes with the ability to integrate with so many different platforms, such as Google Docs, WordPress, and Hubspot.
Jasper

Jasper is another wonderful choice for those who need a reliable AI writing assistant to create impressive content for different online publications.
It has an intelligent chatbot system that lets you get the kind of content you might want.
Just like many other AI writing tools, Jasper is also based on natural language understanding and machine learning principles.
The reason why it is being used all over the world is its ability to generate unique and well-written content for users.
Whether it is copywriting or blog content, the tool can help you generate quality output that is well-written without any potential grammatical mistakes.
It has features to let you choose the dialogue flow, brand voice, writing style, and more options.
Rephraser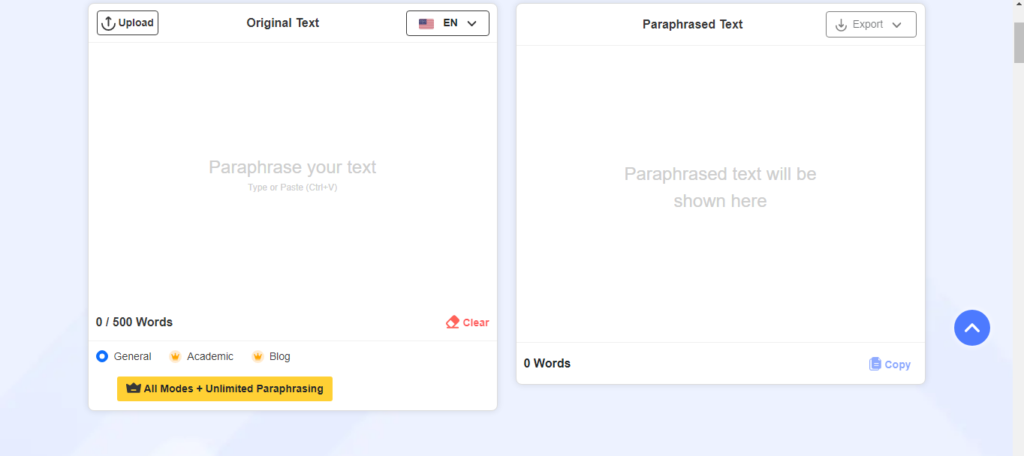 Rephraser is an AI writing assistant that comes with an interesting and unique concept.
Unlike other AI writing tools available on the market, it doesn't let you generate unique content from scratch.
However, it has the magical ability to convert complicated content into straight and well-written pieces of text in just seconds.
The tool has been created based on artificial intelligence.
It deeply analyzes the source material at a rapid pace and then generates instant output for better comprehension and readability.
Users who cannot develop a good understanding of different write-ups due to their complexity or sentence structure can take advantage of this particular tool.
It will not disappoint you with the results since everything is presented in a streamlined manner.
There are different paraphrasing modes available for different kinds of users. For instance, you can choose from fluency, formal, blog, academic, and general modes based on your requirements.
It comes with a user-friendly layout which should not be confusing even for a layperson.
All you have to do is input text that you wish to rephrase, hit the 'Paraphrase' button, and voila!
YouChat

YouChat is one of its kinds of chatbot builders created to make custom chatbots for different social media platforms, websites, and applications.
It has been designed based on natural language processing techniques, including deep learning and machine learning.
It has the ability to comprehend users' queries and then generate helpful responses in real time.
Businesses, regardless of their sizes, can create customized chatbots for their applications, websites, and social media channels.
There are lots of wonderful customization options available for users, which makes this particular option a good choice for businesses with varying demands.
Pre-built integrations are available for Shopify and Facebook Messenger.
Furthermore, it offers insights and analytics to understand the Chatbot's performance and analyze user behavior.
WriteSonic

The next on our list of AI writing tools is the Writesonic.
It is a content writing platform or AI writing assistant that uses principles of artificial intelligence to produce high-quality content based on user requirements.
It provides a range of different content types, such as product descriptions, social media copy, blog posts, and much more.
Like many other AI tools available today, WriteSonic also uses machine learning models such as GPT-3.
The tool is known for generating quick top-quality output.
However, you might not be able to generate exactly what you want, and this is because of the unfamiliarity with the tool.
Once you get used to it or get the hang of it, things will get smoother.
Copy AI

This is one of the most underrated AI writing assistants known by human beings until today.
Copy AI has great features to generate better-quality content within seconds.
It comes with a bunch of writing templates that you can use to serve your purpose.
For instance, the blog template lets you do everything from the beginning till the end.
You can create an impressive and well-researched blog post to publish on your blog and derive value from it.
First, the tool will provide you with title suggestions that you can choose from based on your preferences.
Later, you can create different layouts for that particular title.
Once you have chosen the layout, it's time to generate content and fill in each section of the content structure.
That's how easily you can create an entire blog post within minutes.
A User-friendly interface lets you do everything straightforwardly without wasting time on complicated navigation.
It is worth noting here that each of the aforementioned ChatGPT alternatives is based on natural language processing and machine learning.
You can choose any of these alternatives to fulfill your content purposes.
Each ChatGPT alternative offers a slew of interesting features that can help with content generation tasks.
Artificial intelligence helps streamline the communication between machines and human beings.
You can use different tools for different purposes. This is because no single tool is supposed to help you with everything you need.
Why You Need ChatGPT Alternatives
Some of you might be wondering why you need ChatGPT alternatives.
Well, there are a number of solid reasons that urge you to look for the best available alternatives. Here you will see some of the most prominent reasons:
Cost
It's true that ChatGPT is free at the moment (only for basic usage).
However, it's not going to be free forever. Developers can start charging for the service anytime soon.
Furthermore, there is an upgrade to plus option already available that is costly for people with budget constraints.
If you wish to get away with the costly option, you will have to look for alternatives.
Size
With more than 175 billion parameters, ChatGPT is one of the largest language models available in today's world.
While its complexity and huge size give it impressive capabilities, it may be overkill or too much for some kinds of applications.
Smaller models, such as GPT-2 or GPT-3, may be more appropriate for your needs if you don't have too advanced requirements.
Specialization
Depending on your use case, language models may be specifically designed for your domain.
For example, there are language models trained on medical texts that may be more effective for medical chatbots.
You don't need to have a dedicated ChatGPT account to serve your medical content requirements.
Performance
While ChatGPT has impressive language processing capabilities, it may not always provide the best performance for a specific task.
Depending on the specific task, another language model may be more effective.
Privacy
ChatGPT could not be an appropriate option for those who have data privacy concerns.
It handles a large amount of text from the public, and that's the reason your privacy can be at risk.
To avoid all privacy concerns, it is better to look for good ChatGPT alternatives from a privacy perspective.
It is true that ChatGPT is a versatile and powerful language model available for people with different content requirements; there could be circumstances when you have to opt for alternatives.
This article has discussed some of the most trustworthy AI writing tools that you can rely on in place of ChatGPT.