The Ultimate Guide to Webflow Development: What It Is or Why Choose It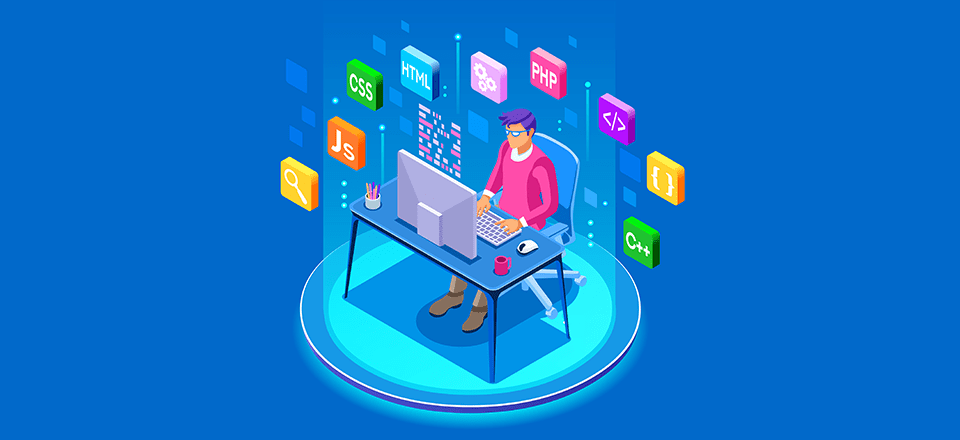 Webflow is a website building tool that doesn't require any coding. It comes with features and services that allow you to create powerful and engaging websites. At the moment, over 387,000 websites are running Webflow. In this post, we'll take a look at what Webflow development is, the benefits it offers, what Webflow customization entails, and how you can benefit from professional Webflow development services. Keep reading!
What is Webflow Development and Why Is It So Popular?
Webflow is a website development platform that simplifies the website and app-building process. It allows you to create custom websites without needing to learn any code. Thus, Webflow is becoming increasingly popular with web developers due to its ease as they can create professional-looking websites for clients with minimal effort. Likewise, Webflow is chosen by businesses who don't want to hire developers or outsource web development, as the platform offers a variety of tools for creating websites with minimum skills.
What are the Different Benefits of Using Webflow for Website Design?
As it was mentioned, Webflow is a powerful platform that enables users to quickly and easily create beautiful websites without having to write a single line of code. It offers a wide range of benefits.
Webflow Designer for Custom Layout
Webflow designer is a tool that allows you to create custom designs starting with a blank canvas. It means that you are not limited by an existing theme or website layout. It's possible to build your website the way you see it. At the same time, numerous pre-built components (sliders, tabs, and other page elements) will facilitate the process enormously. What's more, you can save created blocks and components for further faster use.
Real-time Website Building
With Webflow, you can preview all changes in real time. It's possible to define your grid (rows, columns, and gaps) visually, without adjusting the code. You only need to drag them to see the changes and choose the most appropriate variant.
Easy Content Management
Additionally, Webflow features a CMS that allows users to manage their content more efficiently and collaborate with others on projects. Blog editors, content strategists, and designers appreciate this tool for the possibility to write, edit, and publish their content in one click. Moreover, Webflow lets you create custom content types and structures that will meet your unique needs.
E-commerce Features
Webflow is suitable for brands selling different types of products – both custom items and digital goods or services. The flexibility offered by Webflow allows you to showcase your brand, highlight product features, and create a revenue stream the way you find most appropriate. Additionally, you can add features such as product catalogs, shopping carts, checkout systems, and more to make sure customers have a seamless shopping experience.
Webflow is a great way to quickly create an effective and interactive online store. Webflow involves tools for customizing the store to fit the customer's needs and integrating it with other eCommerce platforms and payment gateways.
Responsive Design
Responsive website layouts are becoming increasingly important for website owners as more and more people prefer using mobile devices. This type of layout allows websites to be optimized for different screen sizes, ensuring that users have an optimal experience regardless of the device they use to access the website. By creating a responsive layout with Webflow, you can ensure that the site will look great on any device and provide the best possible customer experience.
With these features, Webflow makes it easy for web designers and developers to create stunning websites with minimal effort.
Webflow Customization Process
Webflow customization is a great way to create a unique website design that stands out from the crowd. It allows you to add the necessary features and functionality to your website, giving it a unique look and feel. This platform can be used to create an interactive and functional website for any business or individual.
You can get a custom website either by starting with a blank canvas or by choosing a template. If you are completely new to building websites, the second variant will be more appropriate.
After picking the right template for your project, you can adjust the look and feel of your site by adding custom graphics, colors, fonts, sliders, galleries, and other elements to make it stand out from the competition and reflect your brand identity. You can also insert forms, maps, animations, video backgrounds, etc., to make your website even more engaging for your target audience. With Webflow's easy-to-use drag-and-drop editor, you can edit any element on your page with just a few clicks of the mouse, without editing website code.
If you don't wish to use pre-designed templates, it's possible to start with a blank canvas. In this case, you are free to experiment with the layout, elements, pages, styles, etc. A great advantage is the use of pre-built Webflow components that you can insert into your pages.
What Can You Expect When Working with a Professional Webflow Developer?
Professional Webflow development services offer the skills and expertise to create a website that meets your exact specifications. If you lack experience in website creation, mastering even a no-code platform such as Webflow can be time-consuming.
Custom UI/UX Design
A perfect website is the one that meets people's needs. Professional Webflow developers have all the skills of building websites that take into consideration niche specifications, users' behavior, compulsory web elements, etc. Moreover, developers know what technologies are best to achieve a specific goal, so you don't need to study the differences between various elements and components.
SEO and Performance Optimization
Professional developers also understand the importance of SEO and performance optimization and can ensure that your website meets search engine criteria to rank higher. If you are not sure which technology suits your needs best, professional Webflow developers will be glad to assist you. For instance, they can provide advice on smooth animation and interactive elements not to overload your site with effects.
Fast Delivery
Creating a website on your own can take a lot of your valuable time. Expert Webflow development teams usually complete projects of any complexity much faster. With experienced developers, you are sure to get the desired result in the shortest amount of time. Consequently, you can concentrate on other business goals while your website is being developed by professionals.
Thorough Testing
Although Webflow allows users to create responsive sites, comprehensive website testing is a must to guarantee that it will be displayed properly on all screens. Professional Webflow development teams have the advantage of testing websites on different devices which you probably don't have.
In short, by working with a professional Webflow developer, you can take advantage of features such as the implementation of custom features, the creation of responsive design layouts, the optimization of page loading speed, and ensuring cross-browser compatibility. With these features in place, businesses can expect to provide a superior online experience for their visitors.
Conclusion
Webflow development provides outstanding tools for building and managing modern responsive websites without coding. Whether it is a blog or an online store, you'll get the required instruments to create custom designs and workflows tailored to your specific needs. With expert Webflow developers, you can build engaging, user-friendly, interactive websites that will help your business reach more people and grow much faster.