Best Embedsocial Alternatives To Add Reviews Widget On Website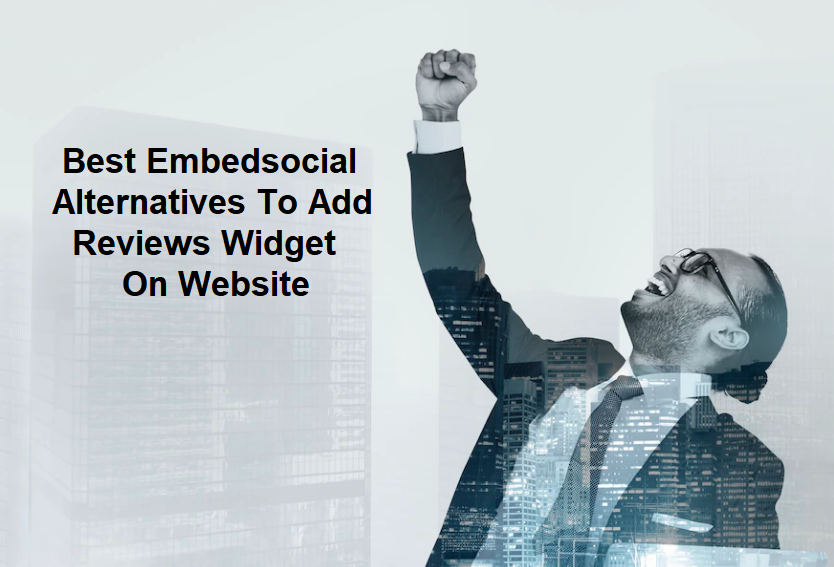 Deciding upon the best tool to embed reviews can be a hard nut to crack. And if you are looking for the best EmbedSocial alternatives for reviews on websites.
Over the past few years, EmbedSocial has emerged as a great tool to embed reviews widget on websites. But there are so many good and better other tools in the industry. 
But the question is, how to choose the best one for you? In this article, we will provide you with the best tools with their features in detail to make an informed decision for you.
It would help if you kept a few things in mind when choosing a leading review widget tool. First, you must check if your tools are compatible with major review platforms. Next, ensure that the tool is responsive; you do not need to worry about the widget messing up with the alignment of the website.
Nevertheless, we'll help you select the best one. So let's start with the topic and make your business grow like insane.
EmbedSocial Alternatives To Review Widget On Website
As a business owner, you can also look for customer reviews examples that can help you get your conversion rates high. And when it comes to tools, leave it to us. We have sorted the best EmbedSocial alternative to embed review widgets for your website. Have a look at the list and thank us later. 
1. Tagembed
Tagembed is an all-in-one social media aggregation tool and a great alternative to EmbedSocial. This tool helps you embed social media widgets and review widgets on the website. 
Tagembed provides you with a range of reviews on the website. For example, with Tagembed, you can lay your hands on a Google reviews widget, Yelp review widget, Facebook reviews widget and many more. First, you have to choose your preferred source, and you are good to go.
Tagembed has all the major review platforms that a business needs. Moreover, Tagembed also helps you with the customization feature of the widget. You can pick the best themes to align with your brand image. You can also perform a card editing style. And one of the main features of this tool is that you can remove the reviews you do not wish to showcase on the website. This way, you can come off as a confident and clean brand on the internet.
While we are talking about the customization feature of Tagembed, you should know that Tagembed also helps you with custom CSS features. This feature allows you to make your widget even more personalized through coding. In addition, Tagembed also helps you with the responsive widget, which means the review widget on the website will be clear with its alignment.
2. Reviews On My Website
Your website is the first thing that your target customers consciously notice. Therefore opting for a review widget on the website can be a game changer. Reviews On My Website is yet another tool that can help you embed the review widget on the website. This tool helps you display Facebook and  Google reviews on your website. With the help of this tool, you can also send review requests to your customers. The tool claims to provide customization features to the users. You can try out their various templates. This includes a slider and carousel widget. 
Meanwhile, it also provides you with review management, basically monitoring and analyzing reviews. This helps you to maintain a positive brand image in the market. This tool also helps you with keeping the review widget updated with time. This helps you bring freshness to your website.
3. Endorsal.io
Endorsal.io is yet another tool that you can use to embed a review widget on a website. It is one of the best EmbedSocial alternatives to reviews widgets available. This tool welcomes you with a quick tour guide with all the features. The basic feature of this tool is that you can opt for beautiful themes and layouts for the review widget on the website. 
Besides, they also provide a graph where you can access the number of reviews received in the last 14 days. As a user, you can also check the number of reviews you receive as a business owner. The other features of Endorsal.io are data visualization and automated notifications.
4. Review Tool
The next tool comparable to EmbedSocial is the Review Tool. True to its name, Review Tool helps you with all the reviews needed. Their review widget helps you to showcase all the reviews that you have received around the internet. Review Tool claims to have 100% customizable. They also have a custom CSS feature, which helps you improvise the widget's overall look through coding.
This tool also provides you with 5 different types of widgets. And these widgets are a sidebar, slide-in, slider, grid, and carousel. All of these templates help you showcase your review widget in the best possible way. Moreover, it also makes your widget look more visually appealing. 
5. Just Review
Another tool to help you out is Just Reviews on our list. The tool claims to collect reviews from all the review sources on the internet. They also notify you when a new review pops up in any service and embed it in your website right away. 
With Just Review, you can also showcase all the review badges you have received. Another great feature of Just Reviews is that you can showcase the number of reviews you have received on the widget. This is the best way to present your average rating and the number of reviews on any service to visitors on your website.
In A Nutshell
Reviews are the social proof for your business. If you are ignoring reviews as a factor of selling, you are limiting your business. There are a number of ways your customers can say they like. You need to consult a few more customer reviews examples to know that convertible reviews and feedback. 
As a business owner, you can showcase reviews on your website. And in 2023, your choice is not limited to EmbedSocial. You can explore all the other tools that you can use to embed review widgets on a website.
As it goes without saying, when it comes to decision-making, humans are not really that independent thinkers. So don't wait for the right moment. This is your sign to embed a review widget on the website and see your business grow exponentially.